Welcome to Massey High School

Striving for Excellence

Massey High School is a co-educational secondary school, founded in 1969. The school was initially based at Henderson High School until the buildings on our current site at Don Buck Road were completed. Since then, we have grown to a roll of more than 1,750 students, with a full range of high quality classes from Years 9 to 13. As a large school, Massey has many advantages, in particular, curricular diversity and access to a wide range of extra-curricular support and activities.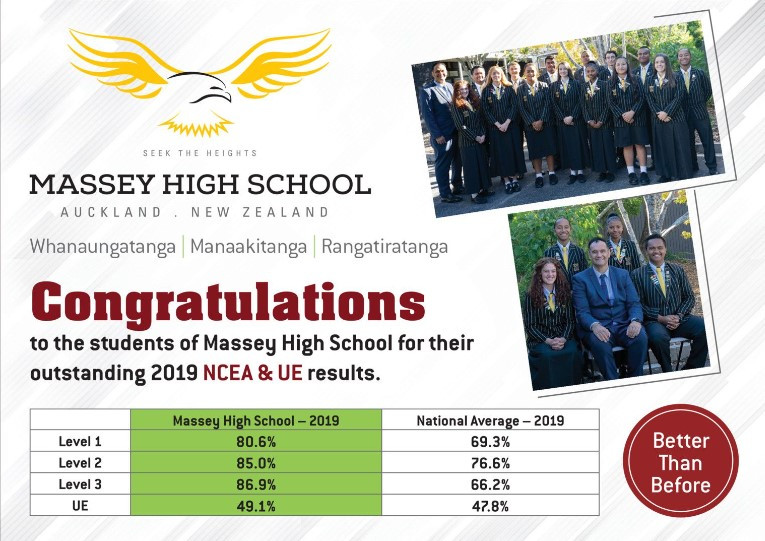 ---
IMPORTANT NOTICES
Important updates and information regarding Massey High School and Covid-19 can be found here
---
---
STUDENT SIGNING OUT PROCEDURE
Important information on the process of allowing students to leave school during the day:
If your child needs to leave school early for an appointment, they must have a note signed by a parent/guardian. The student then gets this countersigned by a Dean or a member of the Senior Leadership Team and takes it to the Attendance Administrator who issues an "Out-of-School" pass.
However, If you need to sign your child out for an emergency during the day please be aware that the office staff may not be able to get your child straight away. While they will do everything they can to help, it may take a little while.
If you anticipate needing to get your child out urgently it would be helpful to give at least half an hour notice. You can phone the school office on 831-0500. Please do not turn up at the office and expect to be able to get your child out of class immediately.
Please DO NOT send your child a text message and expect them to be let out of class and to leave the school grounds without following this process.
In order to ensure the Health and Safety of all students at Massey High School, this is a friendly reminder that if you wish to remove your student from school during the day, we can only allow this, if you are the person nominated on your child's profile.
Please ensure that all contact details and student information is correct.
If you need to update this, please contact Mrs Revell on 831 0500 ext 524 or email: [email protected]
Please do not be offended if we are unable to sign your child out because of incorrect details showing on their profile.
If you have any questions around this, please contact Mr Fairley on 831 0500 ext 766 or email: [email protected]
Thank you for your co-operation.
---
---
Our Massey High School parents, caregivers and whānau may not be aware that we have an exciting new Careers platform called Career Central. Click here for more information:
---
Entertainment Books now on Sale:
Find out more here.